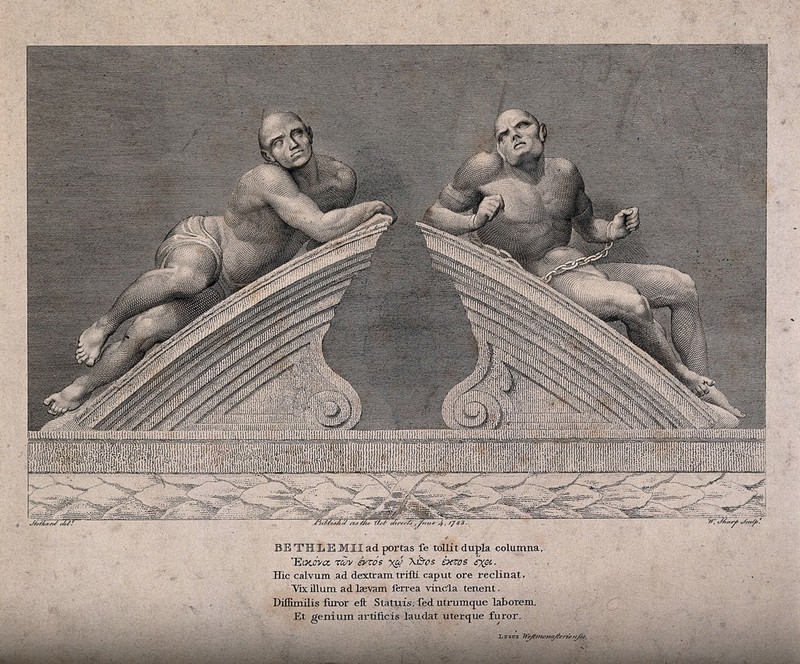 Statues of Raving and Melancholy Madness, crowning the gates at Bethlem Hospital
Engravig by W. Sharp, after T. Stothard, 1783, Wellcome Collection London (CC BY)
The engraving depicts the statues of Raving and Melancholy Madness which once crowned the main gate of Bethlem Royal Hospital, London's (in)famous insane asylum, commonly known as Bedlam. Originating in medieval times, the hospital was rebuilt in 1675-1676 by architect Robert Hooke as a monumental, palace-like edifice. Each reclining on one half of a broken segmental pediment, the statues at the gate contributed to the architecture's prestigious character. At the same time, they announced the purpose of the building by representing what were considered the two main types of mental illness.
By the late 18th century, however, the hospital's structure had fallen into disrepair, so it was eventually replaced by a new building in 1812-1815. By that time, the sculptures at the old gate had already acquired a certain fame among art lovers and engravings of them were in wide circulation.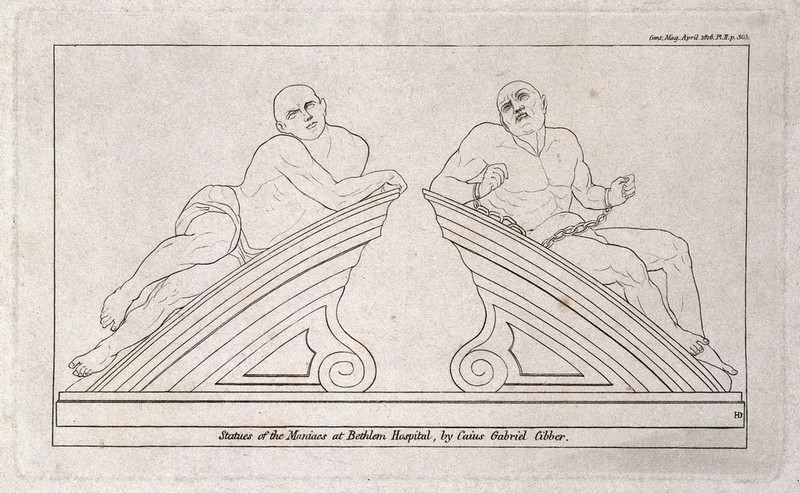 Statues of Raving and Melancholy Madness, crowning the gates at Bethlem Hospital
Engravig by [H. D.], after T. Stothard, 1816, Wellcome Collection London (CC BY)
Today, the original sculptures are still preserved in the recently opened Bethlem Museum of the Mind. The were made by Caius Gabriel Cibber (1630–1700), a Danish artist who had settled in London. One of the city's preeminent sculptors of the time, he even collaborated with Christopher Wren in the rebuilding of St. Paul's Cathedral after 1666. As part of his artistic education, Cibber had travelled to Italy where he had studied, among others, the works of Michelangelo. The latter's influence can clearly be seen in the figures of Raving and Melancholy: They paraphrase the reclining allegories of Day and Night, Dawn and Dusk in Michelangelo's Medici tombs in San Lorenzo, Florence.
Michelangelo, Tomb of Giuliano di Medici, San Lorenzo, Florence
Engraving by Cornelis Cort, 1570; Rijksmuseum Amsterdam (Public Domain)
Cibber's statues in turn inspired another artist, namely William Hogarth. The final scene in Hogarth's famous series A Rake's Progress shows the protagonist, Tom Rakewell, being brought to Bedlam: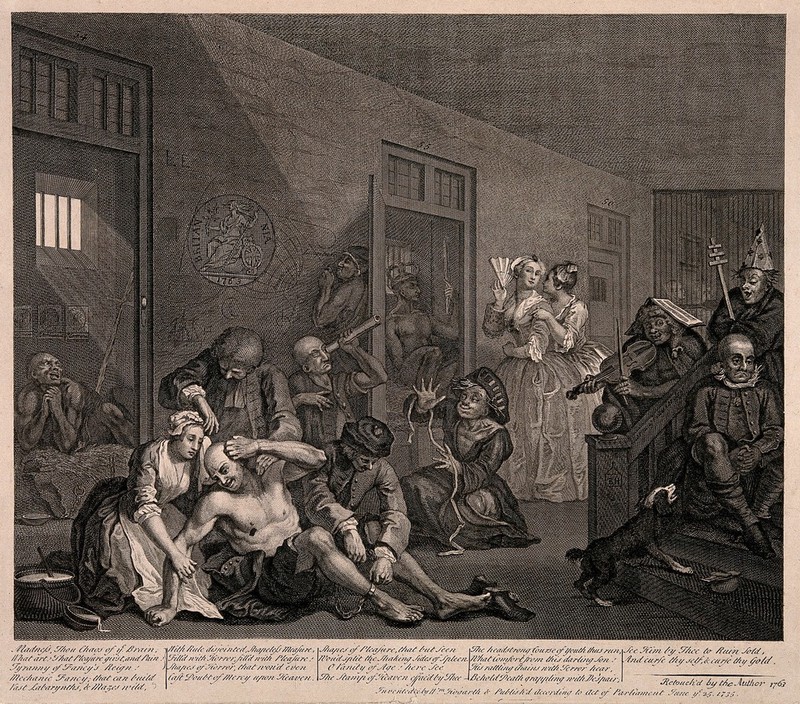 Tom Rakewell in Bedlam, from: A Rake's Progress
Engraving by W. Hogarth, 1763, after earlier engraving by himself, 1735
Wellcome Collection London (CC BY)
Rakewell is shown lying on the floor, raving and raging, while being shackled down by an attendant. Around him, one can make out all kinds of 'fools', who are dressed in ridiculous costumes and acting in bizarre ways, but also two elegant ladies, apparently members of fashionable society for whom visits to Bedlam were a popular form of entertainment. The way Tom Rakewell is supported by his fiancée, Sarah Young, resembles a traditional Pietà composition, but Tom's semi-naked figure itself also references Cibber's sculpted madmen at the asylum's entrance gates. Thus, those familiar with the hospital building could potentially identify the location of the scene without even looking at the image caption.