St. John's Gate in Clerkenwell
from: William Hickman Smith Aubrey, The National and Domestic History of England, London 1867; The British Library, London (Public Domain)
St. John's Gate in Clerkenwell, London, was built in 1504 as one of the entrances to the Priory of the Knights of St. John, better known as the Knights Hospitaller. Not long after the gate's completion, however, the priory was dissolved by Henry VIII, and over the course of the following centuries, almost all of its buildings were demolished. Today, all that survives is the former priory church – now the Parish Church of St. John, entirely rebuilt in the 19th century, though still retaining its original Early English crypt – and the gate. The latter, too, was heavily restored in the Victorian period and, as a consequence, it now looks more "Tudor" than when it was first built. Nonetheless, it is a remarkable survival and one of the few pieces of non-religious* architecture in London to predate the Great Fire of 1666. An engraving by Wenceslaus Hollar, produced only a few years before the fire, shows the gate in its still rather suburban, almost rural surroundings: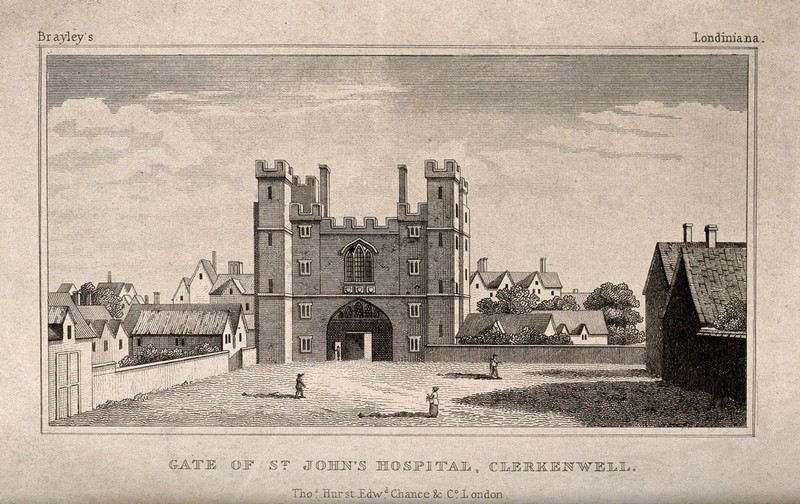 Wenceslaus Hollar, St. John's Gate in Clerkenwell, 1661
The Wellcome Collection, London (CC BY)
Today, the gate hosts the Museum of the Order of St. John, which showcases a wide range of artworks and artefacts relating to the history of the order from the medieval period to the 20th century. The gatehouse's Victorian interiors, designed by John Oldrid Scott – son of the more famous George Gilbert Scott – are quite remarkable, too. I must admit, I know someone who works there, so I might be biased, but I believe it's definitely worth a visit.
——-
*) As mentioned, the gate was part of a priory, i.e. a religious institution, but unlike the priory church, the gatehouse did not have a religious function (in the narrow sense of the term) itself.